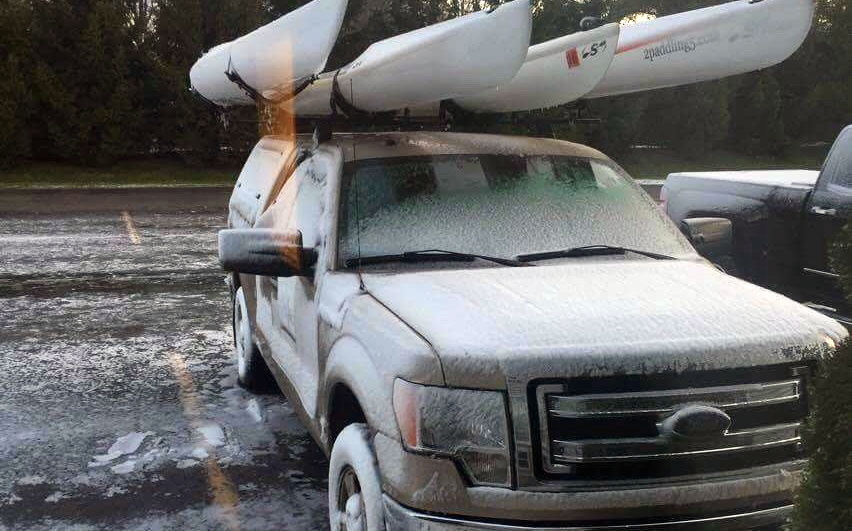 Kayak Journey Update: 4/11/17
The past week has had its ups and downs, last Thursday we had rain that turned to snow and wind that riled up the lake and kept us inside. We made slight adjustments to Joe's boat from the comfort of a hotel, they let us bring the boat inside. Friday the snow was gone but we had 40 mph winds with 50 to 60 mph gusts, still off the water.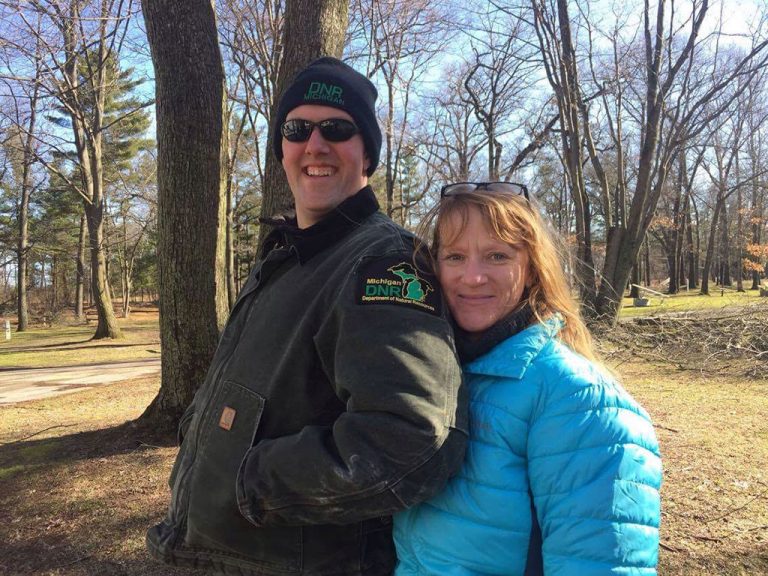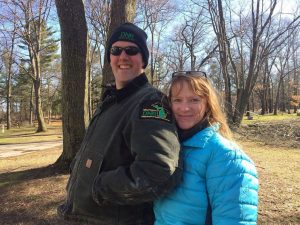 On Friday we moved our home base to Sleeper State Park. We were greeted there by a DNR guy that was super nice, he even posed for a picture with me. I'm rather partial to DNR guys…could be because my son is a Warden. Finally doing what we intended, camping…it's so nice. The campground has 226 sights and is very clean. We would recommended it to anyone coming to this area. It is connected to Lake Huron by an over the road walkway. Beautiful sand beach.
We were able to paddle again on Saturday making our way from Harbor Beach to Light House Park. My Spot sent out an SOS before we even got in the water but they figured it out as we were in a populated area and it was shut down right away. No emergency services were sent out, thank goodness. We called in and checked on it and while testing it went off again. That was enough. We drove to Bay City and purchased a new one. I was on the phone with them trying to get activated again for 2 1/2 hours. Some time during the night I got an email saying I was back in business.
Sunday morning we set out at Light House Park, we were having a great time. We stopped to strip off one layer of clothing at Grindstone because it was so warm. Two miles later we pulled into Far Grindstone to make a GPS adjustment. That was a real treat, rocks and weeds, 4 inches of water and many ducks and geese. We got to see Turnip Rock and that was worth the trip. It was pretty rough but Joe did stop to take a photo. We made our way past Port Austin and stopped for a snack. When we rounded the corner after that, things got serious. Crazy waves with no real direction throwing us around We had intended to make it back to Sleeper but had enough by the time we got to Jenks Roadside Park. Seeing Walt and Cathy's green jackets was great. We were done at noon and not happy that conditions didn't allow us to reach our goal.
Monday we got in at Sleeper and traveled the opposite direction back to Jenks. It seemed perfect when we left but once again the wind and waves decided to demand our full attention. Same crazy wave action but this time it was pushing us. We tried surfing a but it only sorta worked. We reached Jenks just ahead of the crew and were happy to be done.
The rest of the day was beautiful, we all walked on the beach and made some fun discoveries. Earlier in the week we found Puff the Magic Dragon and thought he had passed…not so, he was standing on the beach looking fit and fine.
After our walk the temp dropped, the wind kicked up and it gave us an impressive rain storm with lightning.
Tuesday morning we had intended to paddle 11 miles out to Charity Island and then finish 9 more to take us to Whitney Park. The lake was fogged in and wave action was wild. We scrapped that plan and packed up the campsite and relocated to Tawas. We lost 20 water miles but safety comes first. We will pick up on this side and be happy with that.